Progress on Transport Shows What is Possible
We're watching the transport sector closely and seeing some promising progress in key areas, writes Chief Executive Jo Hendy
By Jo Hendy, Chief Executive, He Pou a Rangi Climate Change Commission
10 May 2022
He Pou a Rangi Climate Change Commission has two main roles: to provide independent advice on climate action and to monitor progress towards the country's climate goals.
Our monitoring role begins in earnest later this year, and a key part of our work now is to shape that part of our role.
In the meantime, we're keeping a watchful eye on progress to ensure we understand how the country is tracking, and to help inform our future advice to the Government.
While there is a lot still to do within a rapidly-closing window of time, we are seeing positive developments – in some cases the result of policy changes and in other cases led by communities and businesses. One of the sectors we are watching closely and seeing some promising progress in is the transport sector.
Transport is a major contributor to the country's emissions
Reducing transport emissions is critical for meeting the country's climate budgets and was a focus for the Commission in our first advice to the Government.
In 2020, transport contributed 30% of long-lived gases in Aotearoa and it was the largest emitting sector for CO₂. Transport emissions have risen steadily over the past 30 years.
In our advice last year, we recommended the Government prioritise three objectives for transport:
provide low emissions alternatives to vehicle use
reduce emissions from cars (light vehicles)
start work now to decarbonise heavy transport and freight.
While transport emissions in Aotearoa are projected to keep rising for the next few years, we are seeing progress across all three of these areas, starting to set us up for the future reductions that are needed.
Reducing emissions in road transport
There is encouraging progress in road transport, particularly in electric vehicles (EVs). Annual EV registrations almost doubled in Aotearoa between 2019 and 2021 – from around 7000 to just over 13,000.
About 44,700 of the 4.4 million vehicles registered in Aotearoa are now EVs – up from approximately 1,000 in 2015. In 2021, a battery-electric vehicle was in the top 10 best-selling models in Aotearoa for the first time (the Tesla Model 3 in 9th place).
There is also significantly increased choice for motorists with 36 different EV models available in the country last year, up from only eight in 2015.
Drive Electric recently launched a search tool for new electric vehicles, showing people all the EV models that are available in New Zealand, in one place, making it easier for people to choose an option that suits their needs.
We expect the choice to keep increasing and to expand into different vehicle types, including utility vehicles (utes). The first fully electric ute recently opened for pre-sales in Aotearoa.
Access to a range of vehicles, including utes, is important for tradespeople, farmers, contractors and other people in rural communities who require vehicles that can carry heavy loads or access rugged or remote locations. People won't be able to switch if they don't have an alternative, so increasing availability of these types of electric vehicles is going to be important – giving more people access to low-emissions options.
Reducing emissions from transport must include access to lower cost, low emissions transport options for people on lower incomes, whether that is EVs or other modes of transport – ensuring the transition does not create inequity.
While there is a long way to go, the rate of change in EV use is encouraging. EV registrations are exceeding our modelling for our advice last year. Over the past 12 months, electric vehicles have held 6% average registrations share. In the Commission's projections, this level of sales was not achieved until after 2023.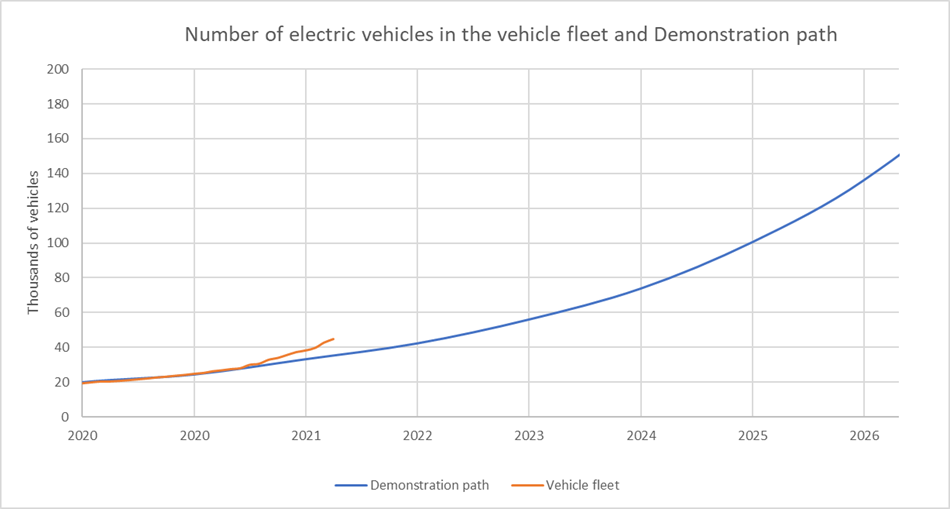 We need this rate of change to keep reducing reliance on fossil fuels. Currently only 1% of cars in Aotearoa are electric. According to Commission analysis, this number needs to be over 35% by 2035 – or roughly 1 in every 3 cars.
The progress so far reflects not only the policy changes, but the efforts of private individuals, NGOs, government agencies, businesses and Iwi/Māori.
We are seeing many businesses and other fleet owners in Aotearoa switching to EVs.
A good example is New Zealand Post. Their company-owned delivery fleet includes more than 400 specially designed light electric vehicles – the 'paxsters' (which are also designed to be recycled at the end of their life). NZ Post also now has an electric vehicle incentive programme for its delivery contractors.
Other large companies that have committed to making the switch to EVs include Mercury, Meridian Energy, Contact Energy, Xero, Westpac, and The Warehouse.
Tools are being developed to make it easier for businesses to understand and transition their fleets, such as SwitchMyFleet from Critchlow Geospatial.
And, even as the EV driving range increases, EV charging is getting easier. There are now more than 300 fast-charging stations across Aotearoa.
Providing alternatives to vehicle use
While decarbonising vehicles is a key part of the transition, how we move around needs to change too. That means more investment in infrastructure and services for public, shared and active transport.
Part of our monitoring role will be to track how much is spent and where it is spent to support the shift to lower-emissions transport options.
The recent halving of public transport fares – although only temporary – may help. Permanently improving the quality, frequency, and accessibility of public transport will be needed to take this further.
We are also seeing many new alternatives to private car use. At least three car sharing services are now available, in four major centres. One of them, Zilch, has an EV-only fleet. Dockless e-scooters are available in many cities, and e-bike use is rising.
Changes for the heavy transport fleet
It's also critical that we reduce emissions from heavy transport – including trucks, planes, buses and ferries. Heavy transport contributes 26% of the country's transport emissions.
By the end of last year, there were over 300 heavy electric vehicles in Aotearoa. Cities across New Zealand are getting more electric buses, and we have started seeing our first electric freighters on the roads. This month, Fonterra begins trialling the country's first electric milk tanker.
As another alternative to fossil-fuels, we're also seeing some pilot projects for hydrogen powered heavy transport. The first hydrogen truck arrived in Aotearoa in 2021, and the country's first four hydrogen refuelling stations are due to be completed soon, in Hamilton, Tauranga, Palmerston North and Auckland.
Rail can offer a lower emissions option for freight and long-distance travel. It is positive to note that KiwiRail's oldest diesel locomotive is being replaced with a new fully electric, zero-emissions one.
Innovation in heavy transport
Some forms of heavy transport, such as aviation and shipping, are challenging to decarbonise. Short term reductions in emissions can come from optimising how we use what we have - ensuring things run as efficiently as possible, minimising the amount we move freight around, and using the lowest emission option available.
In the medium- to long-term, switching to low-carbon fuels such as electricity, biofuels or green hydrogen will be central to reducing emissions from heavy vehicles. It is important that work to enable this switch begins.
We know there are barriers to decarbonisation. Low or zero emission fuels are more expensive than their fossil alternatives, Es may be range limited, or limited by how much they can carry, new technology can be expensive, or trying new technology can be risky.
Because of these barriers, significant change in heavy transport is unlikely without supporting policies. Businesses and others need to be supported to test and trial options so we can learn and deploy at scale. The Commission's modelling last year showed that by 2035, we will be on track if around 95% of medium trucks and 73% of heavy trucks imported into Aotearoa are electric or hydrogen powered.
Solutions are already starting to be tested and piloted
Aotearoa now has its first all-electric commuter ferry (also a first for the Southern Hemisphere – and custom-built in Wellington.) East by West is sailing the electric ferry seven times a day between Wellington's Queen's Wharf and Eastbourne, removing more than 480 tonnes of carbon emissions a year.
Fullers360 in Auckland will have its first electric hybrid ferry running the Devonport route from next year. The ferry is also being built in New Zealand, in Whanganui.
And the Government recently announced plans for two 200-person electric ferries to be built for Auckland Transport's inner and mid harbour services, for launch in 2024. Each of the electric ferries will displace an estimated 1,000 tonnes of carbon a year.
Christchurch based start-up ElectricAir has the first electric plane in Aotearoa. It's only a two-seater, but Blenheim-based Sounds Air has a letter of intent to buy the country's first electric planes for short haul trips. It plans to have at least three 19-seater planes by 2026, and to eventually fully-convert to all-electric planes.
Air New Zealand and the Ministry of Business, Innovation and Employment are jointly running an RFP seeking information on the feasibility of commercial scale Sustainable Aviation Fuel (SAF) production in Aotearoa New Zealand.
This series of 'firsts' shows that industry is responding to the need to change the way we do business. As and when kit comes up for replacement, we should continue to look for options that put Aotearoa on a pathway to reduce our emissions. Support mechanisms like EECA's Low Emission Transport Fund are a good way to test options.
A sum of all our actions
While there are a lot of promising developments, the important thing will be how much it all adds up to in terms of emissions reductions, and this will be a focus of our monitoring work.
Key to our monitoring role will be understanding the impact that new policies and approaches are having, and where different approaches are needed.
And that will play a significant part in our future advice to Government – ensuring that the progress and the lessons learnt, alongside emerging international knowledge, inform the country's future Emissions Reduction Plans.